September 9th, 2019
Pietro Rosa TBM was honoured to have been invited to open the 16th conference of AITeM (The Italian Association of Industrial Technologies) with the keynote speech titled "How Italian Universities can support SMEs growth, innovation and evolution".
The Department of Industrial Engineering (DII) of Padua University invited Pietro Rosa TBM to open the discussion dealing with the topic of university-enterprise collaboration as a critical success factor for growth and strategic market positioning.
The collaboration between Universities (Padua University in particular) and Pietro Rosa TBM goes back over thirty years and has always been systemic to the group's strategy based on capability acquisition, and is now a proven formula for the company to stay at the forefront of innovative manufacturing to support its Global customer base.
The numerous research and development projects carried out with European, national and regional funding contributions have been one of the key catalysts for the successful collaboration between the Universities and Pietro Rosa TBM over the years. In fact, Pietro Rosa TBM has participated in a number of major industrial research projects that lead to considerable amount of investments in hot forming, machining, and special processing technologies. These projects have certainly aided the successful transformation of our long-established forging company into a fully vertically integrated engineering and manufacturing service provider, capable of engineering and developing innovative manufacturing solutions by integrating diverse metalworking and finishing technologies. As we head toward the new decade, we see the need for even closer collaboration with Universities and Institutes as we believe this represents the building block of the future where academia and real world needs define the creative forces that push our industry forward.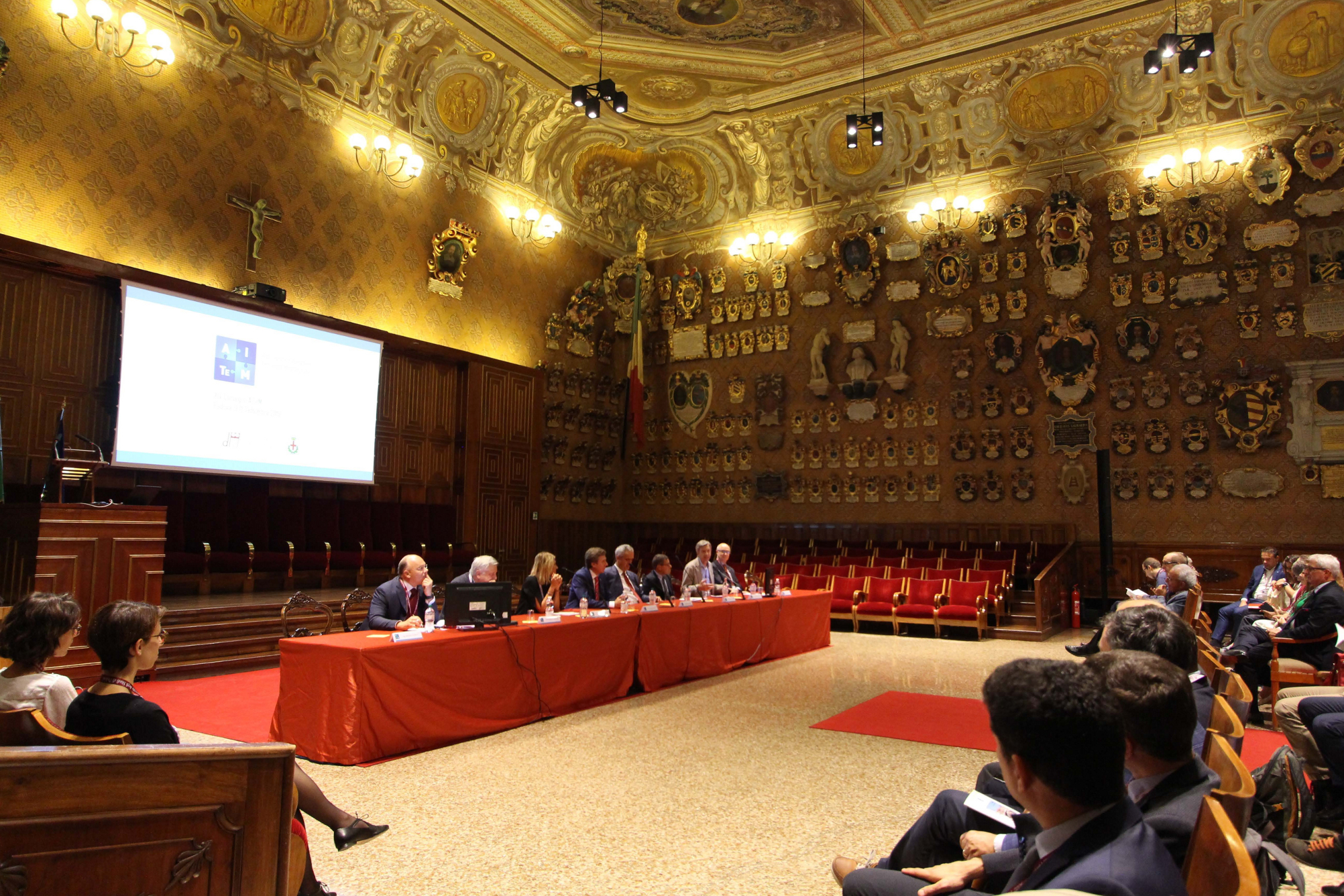 Galileo Galilei Main Hall, Padua University
The participants table listed left to right:
Mauro Fioretti- President and CEO Pietro Rosa Group
Paolo Bariani- Professor of Manufacturing Engineering at the University of Padua
Stefania Bruschi Professor of Department of Industrial Engineering at the University of Padua
Tullio Tolio, Professor at Polytechnic University of Milan and President of AITeM
Rosario Rizzuto, Dean of the University of Padua
Fabrizio Dighiero, Dean of Technology Transfer and business relations at
The University of Padua
Massimo Guglielmi, Director of the Department of Industrial Engineering at the University of Padua
Leonardo De Chiffre, Professor at the Danish Technical University of Copenhagen
About the AITeM Conference 
The AITeM conference is a prominent meeting place of the scientific community in the sector of manufacturing technologies and systems designed to promote a fruitful cultural exchange between researchers and teachers. AITeM members belong to the most prestigious Engineering Departments of Italian Universities, such as Milan Turin, Rome, Pisa, Naples, Padua, etc.
About Pietro Rosa TBM
Pietro Rosa TBM is an international leading manufacturer of compressor airfoils and mission critical components in the energy, aerospace, oil & gas and marine markets. Pietro Rosa TBM has plants located in Europe and USA.
The group invests heavily in R&D and innovation and has built up its intellectual property in hot forming, machining and surface finishing technologies through a solid collaboration with universities and research centers globally.
For further information e-mail: media@pietrorosacorporate.com Or telephone +18606771376 (Ext 3310)